News
NEK at Breakbulk Americas 2017
08.12.2017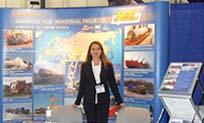 NEK company for the third time took a part in the largest, annual Breakbulk Americas exhibition dedicated to the project and heavy-weight cargo, which was held in Houston, TX, USA on October 17-19, 2017.
Almost all the logistics companies from all over the world were presented at the exhibition.
We would like to thank all visitors, customers and partners for meeting us in Houston!
Back to news list