News
NEK at Breakbulk Americas, Houston 2016
14.10.2016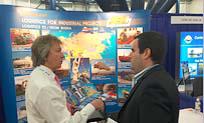 This year, as last year, NEK was presented with our own booth at the largest exhibition designed for the break bulk and project cargo industry.
The event and the expo were successful, we were able to get in touch with various new and existing customers, and explore future business opportunities.
The four-day event brought together EPCs, ports and terminal operators, forwarders, transporters and other cargo specialists and industry experts.
The Exhibition gave NEK an opportunity to network and connect with over 300 exhibitors and sponsors that provide specialized services.
Over 5,000 participants attended Breakbulk Americas 2016 and 200 plus visitors attended NEK booth at the expo.
Back to news list