News
NEK at Breakbulk China exhibition in Shanghai.
20.03.2017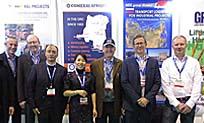 The second time Company NEK participated in Breakbulk China exhibition and conference, for this time at the joint stand of the Association members GPLN.
The exhibition was held from 14 to 17 March in Shanghai.
GPLN - Association of project logistics companies, specializing on international transportations by all types of transport of oversized and heavy cargo.
NEK Group of Companies is a member of GPLN.
Back to news list