News
NEK in India
16.12.2019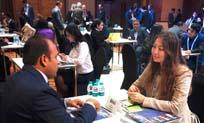 NEK Group delegates took part in the 2nd Annual Conference 'INDIA LOGIX' that was organized under aegis of Ministry of Commerce, Govt. of India in New Delhi, the capital of the country, from 12th to 14th of December 2019.
The Conference is a networking platform for local and foreign logistic companies.
More than 100 companies from 25 countries participated in the event.
Back to news list