News
NEK Web Tracking – New Software
16.11.2018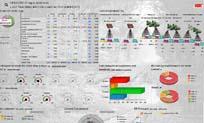 One more creation was added to NEK's intellectual property. 'NEK Web Tracking' software is modern, interesting and what is more important, helpful and in-demand.
With NEK Web Tracking one can keep a close watch for freight traffic: wagons, tank cars or oil tankers.
The software was presented to Tengizchevroil's top management and received a high rating.
Back to news list