News
Heavy equipment for Kola ship yard
11.09.2017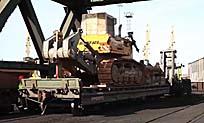 There handle heavy equipment for building 'Kola ship yard' in Murmansk Sea Commercial port.
Large trucks, dozers, excavators, quarters units are being delivered by sea and rail.
JSC NEK is a logistic operator who delivers equipment and machinery for the builders of Kola ship yard.
This project aims to establish a site for building offshore facilities for oil and gas industries.
Back to news list