News
NEK at «Breakbulk Europe 2018»
18.06.2018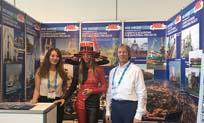 The world's largest event for the project cargo and breakbulk industry was held on 29 – 31, May in Bremen, Germany.
NEK group took part in the exhibition and was presented with our own booth.
The three-day event brought together EPCs, ports and terminal operators, forwarders, transporters and other cargo specialists and industry experts.
Over 400 international companies were presented at the expebition and 5,000 participants attended Breakbulk Bremen 2018.
Back to news list