News
NEK operations in the Yamal peninsula.
17.07.2015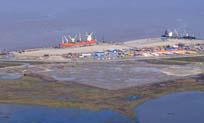 South-Tambey gas condensate field development and the first construction stage of LNG plant in Yamal are in progress.
On June 1st there was commissioned a new federal sea port 'Sabetta" (YNAO, Sabetta settlement)
NEK specialists are providing transportation of Schlumberger cargo from Arkhangelsk port to Sabetta port area and further to the point of destination.
Back to news list