News
Safety transport of dangerous goods by rail
17.12.2014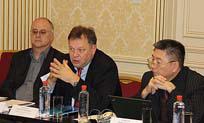 The 2-nd International scientific and training conference on «Reporting, prevention, confinement, mitigation and emergency response during rail transportation of dangerous cargo; accident consequences» was organized by NEK in cooperation with Tengizchevroil LLC on November 10-11.
There participated the representatives of the following companies:
Tengizchevroil LLC (Kazakhstan)
NEK group (Russia, Belorussia, Ukraine)
Chevron (Moscow)
The Central AeroHydrodynamic Institute named after Prof. N.E. Zhukovsky
'Gudok' Publishing house
JSC 'Ecospas' Center for emergency, rescue and ecological operations
'VipGazTech' LTD (Russia)
During the conference NEK specialists and the personnel of the companies involved in emergency response operations on the railroad exchanged their experience.
The first conference on these issues was held in Odessa, Ukraine in 2013.
Back to news list