News
Ust-Kut News
14.12.2018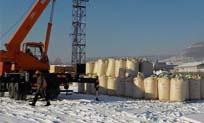 Our colleagues from Ust-Kut branch have been working in the center of construction yard of main gas line (MGL) - Power of Siberia. Nowadays, there are starting a final stage: connection of Kovyktinskoe field with MGL.
Among the long-term customers of Ust-Kut branch there are "TAAS-YURYAKH NGD","Service of drilling materials", "Kransodar Burenie" and other oil and gas market players.
Ust-Kut town is located 510 km to the north from Irkutsk, in the conflux of Lena and Kuty rivers.
Back to news list