About
Emergency Response
NEK Company provides forwarding services related to dangerous goods transportation of LLP Tengizchevroil (TCO).
Dangerous goods go for export all over the world through Kazakhstan by railways of Russia, Ukraine and Belarus, including countries of the European Union and Black Sea ports.
Due to the fact that TCO dangerous goods – propane, butane, crude oil and bulk and granular sulphur –are fire and explosion hazardous and refer to dangerous goods of hazard class 1, 2, and 3 according to the United Nations classification, NEK also provides TCO with consulting services and assistance to ensure the fulfillment of TCO Plans related to notification, prevention, localization, mitigation and elimination of emergencies, as well as their aftermath, if any emergency occurs at the railways of CIS countries. The issues mentioned above are solved by training of TCO observers who are provided with power of attorney for administrative functions to represent TCO's interests at the railway ("Responsible Party") and in administration as part of plans on emergency response and mitigation of its consequences.
Persons being employed with NEK for a long time as occupational safety officers, specialists forwarding dangerous cargoes by rail etc., who were instructed and received safety training are appointed as TCO's observers. NEK has its branches and representatives in Astrakhan, Rostov-on-Don, Odessa, Moscow, Brest and Vyborg, which makes it possible, in case of an emergency, to promptly send its representatives to the place of an accident that can happen on the routes passing through the territories of JSC Russian Railways, Ukrzaliznytsia and the Belarusian Railways.



Books published by NEK within the framework of Response Plans for Rail Transportation are GUIDE for TCO's Observer and Handbook for TCO's Observer.
When training a qualified observer, the difficulty is that the TCO's observer has to possess extensive knowledge in various fields. Because a TCO's observer is required to have large amounts of information on-site, a Russian–English GUIDE for TCO's observer was developed in 2010 as a manual to train TCO's observers their functions. In 2013, a revised Russian–English Handbook for TCO's observer was published. The last edition can be used both as a manual and reference guide at the accident site in the field.
NEK together with TCO regularly conducts tabletop drills involving TCO's observers related to emergency response to railroad accidents with dangerous cargoes of TCO, as well as provides on-site training and conferences with activity-specific TCO's observers.
Besides, NEK representatives made regular presentations within the framework of the forum "Security Technologies - 2013" at the International Conference "Terrorism and Transport Safety", which was organized by the State Duma Transport Committee, RF Ministry of Transportation, Government of Moscow, Transport safety fund supported by the Federal Security Service, Ministry of Internal Affairs, Federal Railway Transport Agency and other organizations.
Railroads of Russia, Ukraine and Republic of Belarus conduct drills on an annual basis related to emergency response with TCO's (or similar) dangerous cargoes being involved and participation of TCO's representatives and TCO's observers from NEK in them. During the exercise, they share experience, improve feedback notification systems, discuss issues of concern and outline plans to eliminate deficiencies.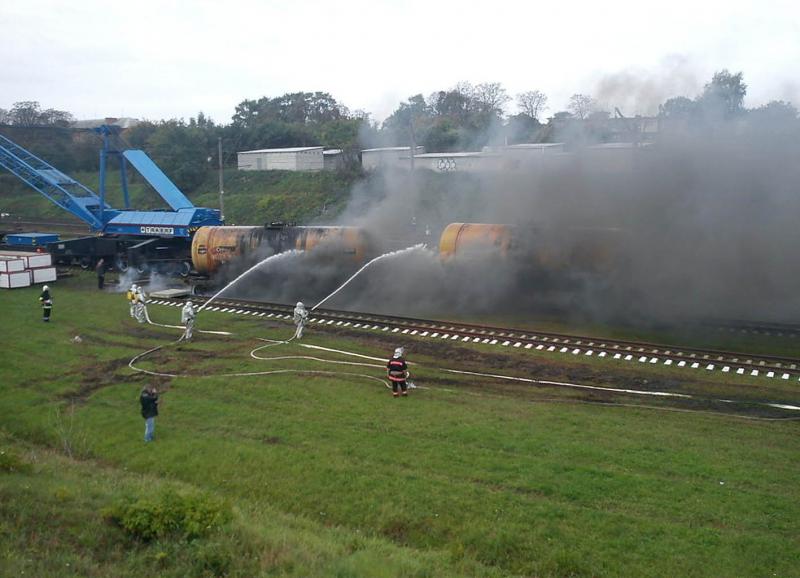 Practical tabletop drills held on 26.09.2013 and related to extinguishing of fire involving TCO RTC with oil at the Kazatin station of South-West Railway of Ukrzaliznytsia.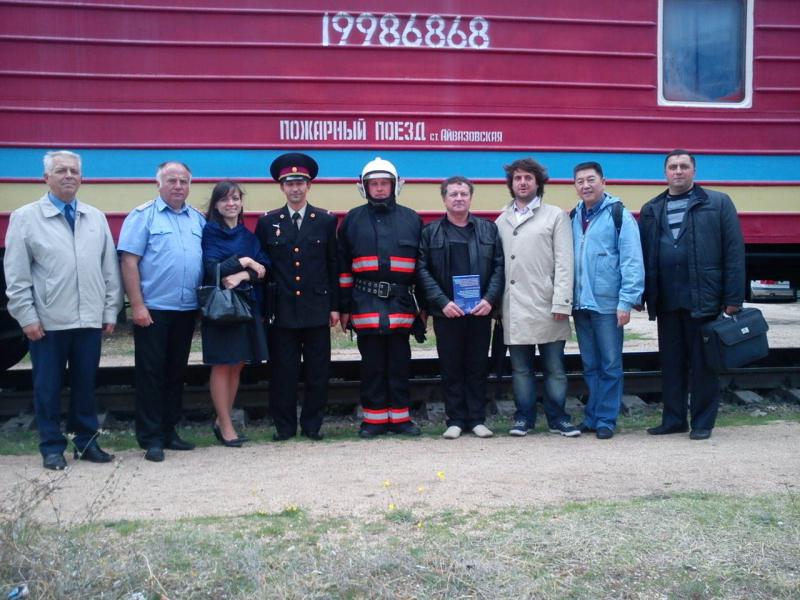 Participants of the practical tabletop drills held on 27.09.2013 and related to fire extinguishing of the oil spill at the Aivazovskaya station of Pridneprovskaya railway Railways of Ukrzaliznytsia.
NEK supported by TCO continuously performs works aimed at improving prevention and elimination of emergency and its aftermath:
reliability enhancement and speed-up of TCO's notification about railroad accidents; originating proposals with regard to mitigation procedures for most common emergency scenarios; determining most common emergency scenarios for TCO's dangerous goods; determining hazard areas under various emergency scenarios; developing recommendations to reduce the number of sulphur cargo ignition events during transportation; facilitating workforce and equipment preparedness to emergency response resulting from liquefied petroleum gases leak after the rail car has been damaged.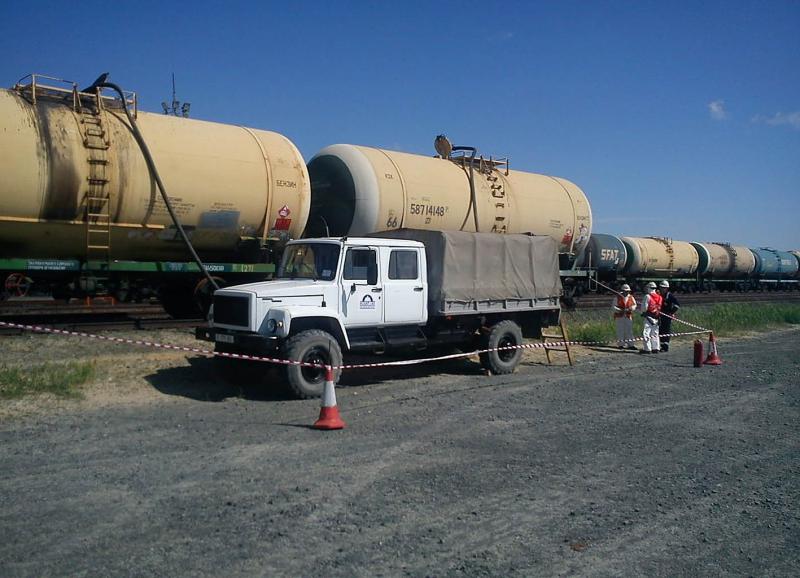 Oil pumping from the emergency rail car into the empty rail car with the help of a mobile facility to pump crude oil based on Eger-2 all-terrain vehicle.
A mobile facility with the capacity of 40 m3/hour based on Eger-2 all-terrain vehicle has been developed for oil pumping (in the field) from the emergency rail car to the empty one. This work has been carried out by NEK in cooperation with Askar Tau Engineering LLP according to the requirements specification provided by TCO.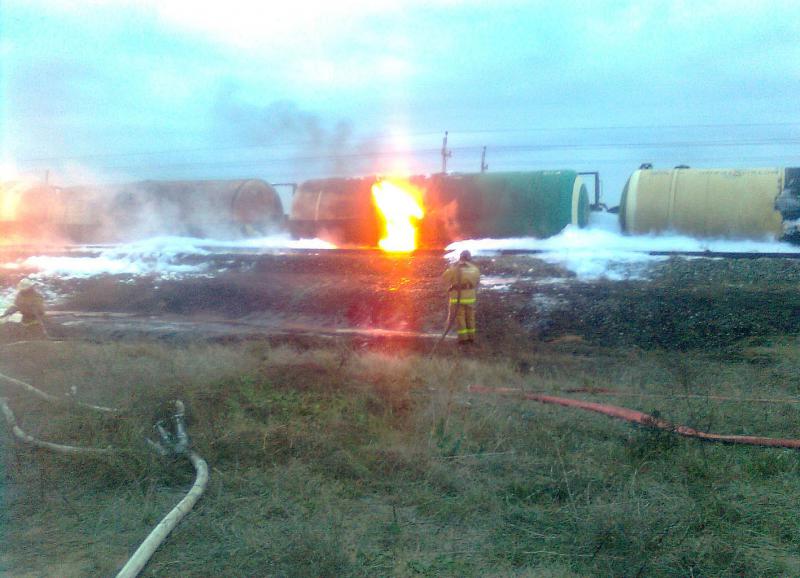 Derailment and fire of rail car with crude oil at Vyshesteblievskaya station of the North Caucasus Railway.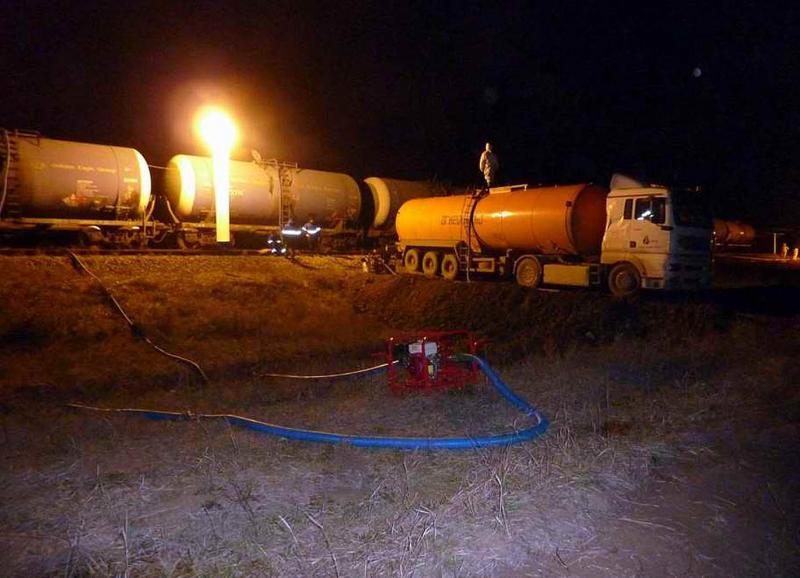 Oil pumping from emergency rail cars into trucks at Vyshesteblievskaya station. A photo by Svyatoslav Aleinikov, a participant of the operation related to emergency and its aftermath elimination, JSC NEK-Rostov, November 2012.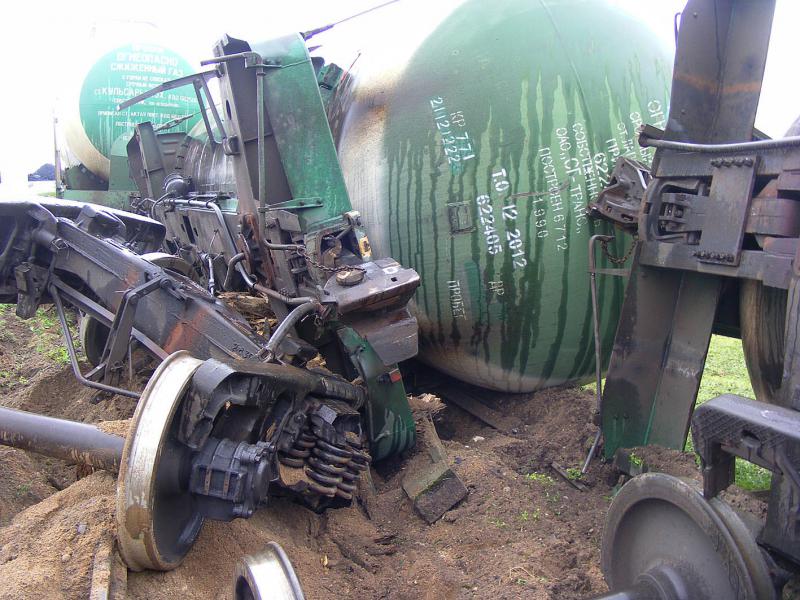 Aftermath of propane rail car derailment on 21.09.2013 at Skandava station of the Polish Railways.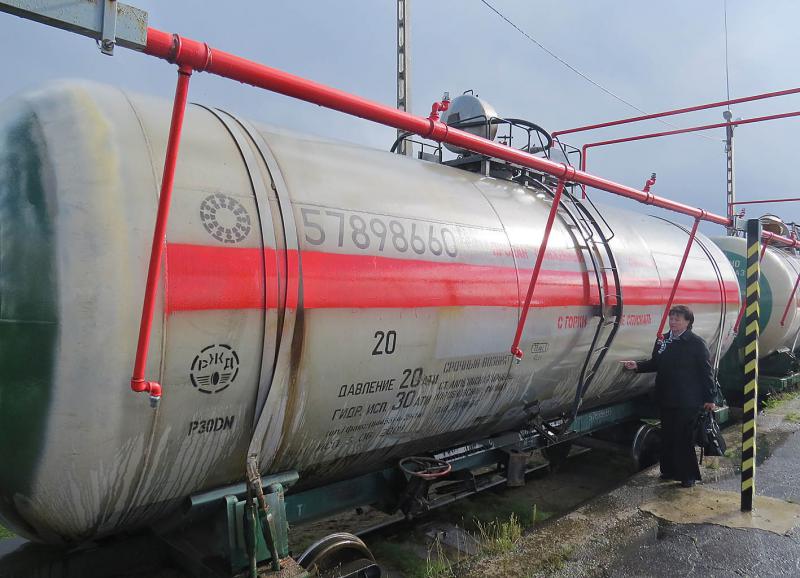 Director General of NEK-Brest Private Unitary Forwarding Enterprise is examining the condition of emergency rail cars with propane at Skandava station of the Polish Railways.
When eliminating emergencies involving crude oil, propane, butane, and sulphur and their aftermath at the railway in the territory of Russia, Ukraine, Belarus and Poland, close cooperation and coordination in the work of emergency units of TCO, NEK, JSC Russian Railways, Ukrzaliznytsia, the Belarusian Railways and the authorities was demonstrated which helped to protect the population and territories of the CIS countries mentioned above from industrial disasters and their aftermath at the railway.
In September 2013, a scientific practical conference was held in Odessa on the initiative of Tatiana Tynyanova, Director General of NEK-Odessa, organized by NEK, TCO and Ukrzaliznytsia and related to the issues of safety during transportation of dangerous goods by rail. Conference materials are presented in the book "Issues on notification, prevention, localization, mitigation and elimination of emergencies and their aftermath during transportation of dangerous cargoes by Railways of Ukraine". Materials Digest of the Research and Practice Conference, September 12–13, 2013, Odessa, LLC Publishing House Ukrpol, 304 pages.